Making and Using Masks In Paintshop Pro

Paintshop Pro is the choice of many graphic makers, and by far my favorite graphic program. This tutorial will work with PSP 5, 6, and 7, although the screenshots are from 7. If you have one of the older versions, great! If you can get hold of a copy of 7, though, you'll be thrilled with all the new neato keen stuff you can do. But for masks, the version won't matter.

Masks will allow you to do all sorts of neat things, like combine one photo with another, or make really pretty seamless side borders out of any photo or graphic you like. The background for the PetVille Resource Center was made with masks.
The second part of the masks tutorial is about blending two different graphics with the help of layers.
On this page we'll learn how to mask a photo. The second page of this tutorial will show you how to combine one photo with another, and the third page will show you how to make your own masks :)

OK, let's get started. First you need a photo and a mask. Makes sense, eh? So right click on the photos below and save them to your files so you can follow along with the tutorial.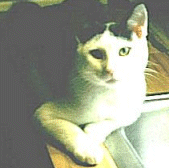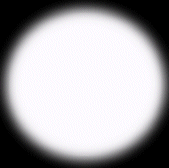 All right! Now, open PSP and open the two files. It will look like this: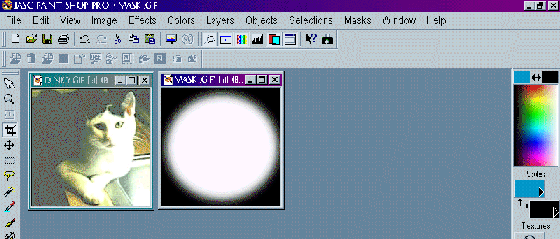 Now click on the picture named "dinky.gif", then go to Mask, New, From Image. Use the pull down box to select "mask.gif". If the word "New" is greyed out, exit the mask box, go to Colors, Increase Color Depth, 16 Million Colors, and then go back to Mask. The box will look like this: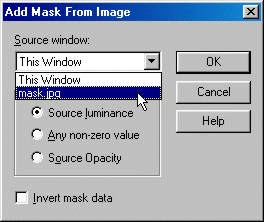 In the Mask box be sure to have the option "source luminance" selected and leave the "invert mask data" checkmark unchecked. From the dropdown menu choose "mask.jpg" and click "ok". You will see your photo masked, like this: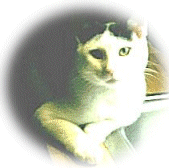 The screen will look like this: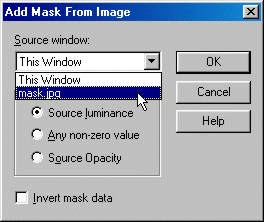 The grey and white background shows that there's no color set for background That means the background is transparent--very important for the next step.
If you aren't happy with the results of your masking, you can easly remove your mask by going to Edit, Undo Mask From Image.
Ok, that's it for this part. Easy, huh? Next we'll merge two photos: go to Masks 2 :)
This tutorial written and all graphics created by Ariel.


&copy 2002 PetVille Mentors. All rights reserved.